Jeff Roberts of CollectiveEvolution.com writes:
For thousands of years, man has looked to nature to cure disease. In the last decade particularly, medicinal plants have been catapulted into mainstream culture, with the popularity of plant medicines such as ayahuasca, ibogaine and cannabis making headlines for their powerful healing abilities against some of today's most prominent illnesses. However, these plant medicines come with illicit conditions in most countries.
The good news is, some of the most common weeds in our backyard yield amazing healing abilities, and they are all legal! Here are ten weeds which possess interesting medicinal properties. (Note: Consult with your health professional before self-medicating with these plants)
Chicory (Cichorium intybus), the light blue flower frequently seen along roads, provides the main commercial source of the compound inulin. Patients take inulin to fight high blood fats, including cholesterol and triglycerides, according to WebMD. Research published in Diabetes & Metabolism Journal suggests that inulin intake benefits women with type-2 diabetes by reducing the rate of blood sugar increase after eating. Inulin promotes the growth of certain bacteria in the intestines. While some believe this can help digestion, others suffer serious flatulence when the inulin-fed bacteria build up. Some people add the dried and roasted root to coffee. Chickory coffee is especially popular in New Orleans.
Red Clover (Trifolium pretense) contains chemicals known as isoflavones. These chemicals can act like the female hormone estrogen in the body. Doctors have examined the clover chemicals as a treatment for hot flashes and other symptoms of menopause. However, doctors warn that women with a history or risk of breast cancer should avoid isoflavones, since estrogen-like chemicals have been associated with the increased incidence of some cancers.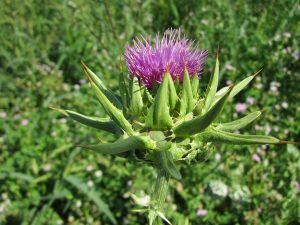 Milk Thistle (Silybum marianum) has a 2,000 year history as a liver medicine. Modern research has looked at thistle extracts as a treatment for alcohol-induced liver damage. Substances in milk thistle, particularly the chemical silymarin, may protect the liver from damage after a person takes an overdose of other medications, including acetaminophen (Tylenol). Milk thistle may also be an antidote to poison from the deathcap mushroom (Amanita phalloides). Animal studies found that milk thistle completely counteracted the poison if given within 10 minutes of poisoning, according to the University of Maryland Medical Center.
Read more HERE
About the Author
Jeff Roberts is a Blogger/Aspiring Author/Scare-Junkie – Writing and blogging with CollectiveEvolution since 2013.