There's something about traveling.
It gives us the chance to see the world, and ourselves, in a new light. And in my case, on my recent trip in Italy, it gave me the opportunity to pray in a new way.
As I sat at the train station waiting, the railroad master emerged from her office to warn me and other travelers sitting nearby of two known pick pocketers.
Evidently, she'd just gotten word they were seen heading this way to take advantage of unsuspecting travelers like me. I had packed more than was necessary or wise, and had already found it challenging, as I clumsily hoisted my big suitcase onto the various trains.
I was touched by the concern of the railroad master and her wanting to protect her passengers from theft. As I listened to her description of how crafty these professional pick pockets are, I rolled my enormous suitcase closer and found myself clutching my purse a bit tighter.
We were told to look out for a young pregnant woman (or someone pretending to be pregnant) accompanied by an older woman, posing as her mother.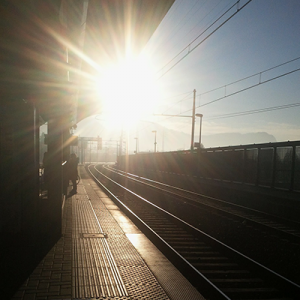 That is when my 'get-ready-for-the-pick-pockets-defensive-stance' softened and I remembered who I am. Then I began to pray.
I shut my eyes and imagined these beings as perfect, whole and complete. The awareness of each of them as infants came to me – maybe because the pregnancy was mentioned – and I thought about them as Spiritual Beauty and Love in the Heart of God, and I sent them my blessings. I opened my eyes and enjoyed the view.
I never did see them, but wherever they are, God bless them.
That is the amazing thing about travel, isn't it? We see ourselves more clearly. How often am I tightening and clutching in my day to day life…in someway…rather than softening my mental/emotional stance and opening to prayer?
A good way to move into prayer is simple to ask ourselves:
What situation in my life has me feeling defensive? How might I release fear and move into prayer?
Just by contemplating these questions, we've already begun. A simple prayer we can say once we are present to what we are holding in fear is:
"I release these worries to God, that I be replenished in Love Now. In gratitude, AMEN."
Whether traveling or staying home this summer, may you enjoy the season, remembering the practice of prayer is always available. We can pray anywhere anytime and be renewed through this simple yet amazing power we all possess.
Love and prayers,
Angela
ABOUT ANGELA MONTANO
An international spiritual coach and prayer counselor, Angela Montano is devoted to sharing the utterly transformative power of prayer. Her work provides spiritual insights that change the way people perceive their circumstances, creating a shift that opens up a whole new world of possibilities.
Angela's mission is to inspire a new conversation about prayer, teach ancient and new prayer technologies and encourage people to adopt a prayer practice.
A spiritual practitioner certified by the Center for Spiritual Living and the Agape International Spiritual Center, over the past 20 years Angela has facilitated over 15,000 private, one-on-one prayer sessions with clients of all faiths and belief systems from around the world. Angela's work is inspired, and her ability to provide a spiritual perspective on the challenges of daily living is unparalleled.
A featured guest on Hay House Radio, Angela is also a sought-after keynote speaker and workshop facilitator. Angela is author of the forthcoming book, Rethink Prayer. To learn more about Angela's prayers and how you can be part of the ReThink Global Prayer Tribe, go to ReThinkPrayer.com and sign up.