Welcome to Jill Mattson's Special Offer Page

Uplift Your Body, Mind and Spirit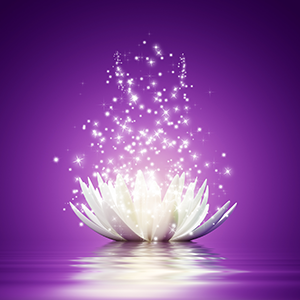 Vibrational healing with sound is the most powerful subtle energy healing modality!
Sound interacts with us on every level.
It combines with our emotions, alters our brain waves and slowly changes our physicality.
Sound is reputed to be the medical modality of the future by Edgar Cayce and other great seers.
The future is now!
Some fun things you will learn when listening to this powerful healing music:
Amplify Therapeutic Healing Practices
Use sound to shift Personality Habits — without using your Will Power!
Use Tones for specific Emotional and Healing Benefits
Increase Psychic Abilities
Contact beneficial Spiritual Guides
Change Chemicals within your Body
Sound as a tool for changes in mass consciousness
Counter Astrological Energies with Music
Use Sound to Release Negative Memories & Energy — clear Emotional Blockages
Improve Chakra Energy and open new Chakras
Improve Health
Release Emotional Blockages
Use Frequencies to eliminate Negative Energy
Explore Past Lives
Play with Special Frequencies for Healing and other Gifts (Fibonacci numbers converted into tones, Solfeggio tones, binaural beats, star tones)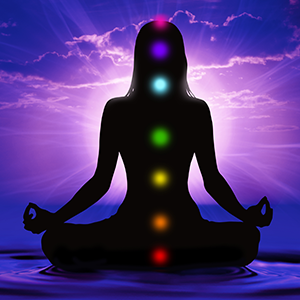 Like a laser, sound energy clears subtle energy meridians, channels and negative blockages — often with immediate physical and emotional effects!
Identify frequencies that your body needs for healing and ways to easily listen to them.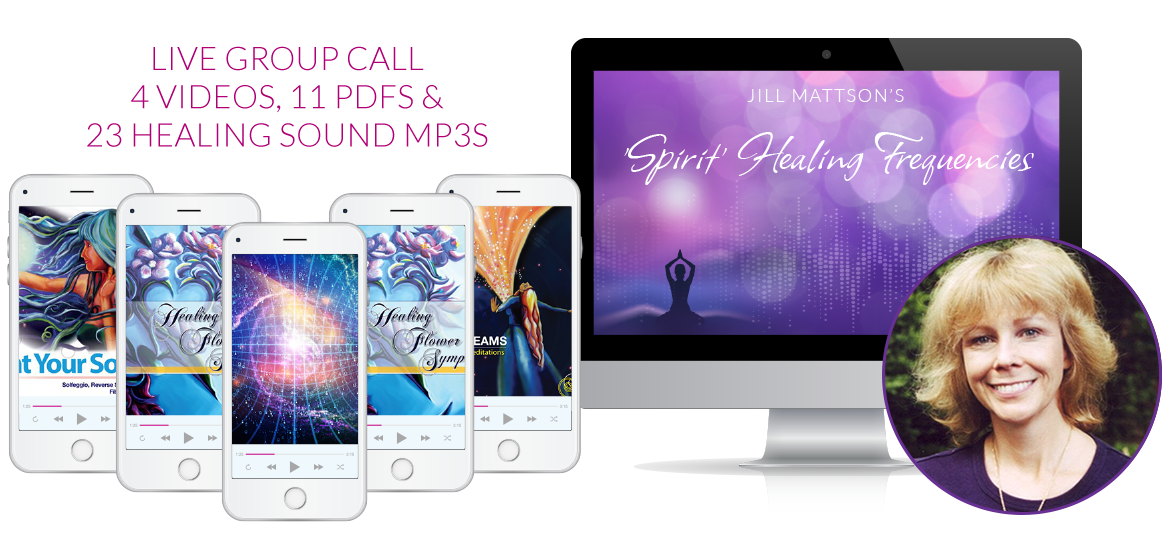 Value: $200
Via Zoom
Thursday, April 30th, 2020 at
4:00pm Pacific / 5:00pm Mountain / 6:00pm Central / 7:00pm Eastern / 11:00pm GMT
Energy Healing with the Masters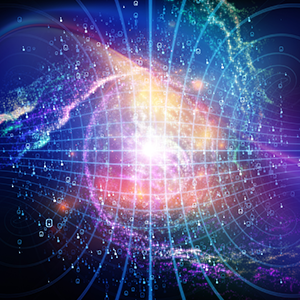 Join Jill for a powerful 90-Minute Live Group session where she will guide participants through a transformative session as she channels healing energies and frequencies from the Ancient Masters.
Among the Masters and Angels delivering powerful energy work and clearings to YOU and YOUR BODY as channeled through Jill are:
Channeling St. Germain

Channeling Jesus

Building the subtle energy of nutrients to enhance the immune system: glutathione, quercetin, oxygen, zinc, vitamin c, etc.

Channeling Arch Angel Michael

Strengthening the subtle energy of white blood cells and antibodies. Tuning the lymph system, energetically clearing filter and fluids

Channeling Arch Angel Gabriel

Strengthening our bone marrow subtle energy that produces white blood cells and lymphocytes.

Channeling Metatron

Energy healing from other dimensions.

Channeling Melchizadek

Tuning quantum-entangled subtle energy.
Note: The session is recorded and will be available for replay.

Value: $279
4 Videos & 11 PDFs
Total Runtime: 4 Hours, 11 Minutes
Vibrational Healing from Ancient Masters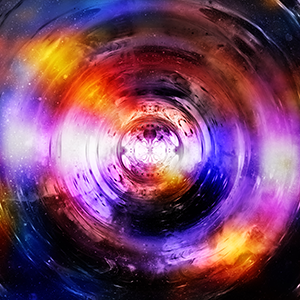 Sound healing techniques from ancient Atlantis, Egypt, China, India and more! Try these subtle energy techniques so powerful, they change your world!
You are vibrational energy, with sound and other vibrations altering you at your most profound levels. Slowly but surely, sound energy changes tiny vibrations that compose "all that is you".
Ancient sounds and music targeted positive changes; they are sound-based energy treatments to alter your emotions, thoughts, spirituality and physicality.
If you are on the spiritual path, seeking to empower yourself with more excellent health, intuition and psychic abilities, then join the fun and "blast from the past". Perhaps you will remember the skills you used in a former life in Atlantis! Refresh your memory from past lives and recognize previous accomplishments while increasing your power and skills!
Learn to:
Gathering Celestial Energy & that of Higher Dimensions with your Voice
Activate & strengthen Telepathic Skills
Discard foggy energy hiding your Life Path & Mission
Discover your Planet of Origin
Activate 12 strands of DNA
Access Higher Dimensions
Use Portholes to make Energetic-Changes to alter Life's Outcomes
Interspecies Communication — with plants & nature
Downloading Higher Blueprints of Energy
Strengthening & Communicating with Ancient Atlantean Masters and Angels
Jill has included a collection of reference materials to use as you proceed through the video course. All are downloadable and can be printed so you can follow along as needed.

Value: $18
6 MP3s
Total Runtime: 52 Minutes
The Healing Flower Symphonies are a remarkable collection of original compositions containing the vibratory healing benefits of 12 Flower Essences.
Each track of the Flower Symphonies provides the healing potential of the associated flower. (Listening to the frequency of an item can bestow the same benefits as ingesting the physical substance.) The symphonies begin by releasing the negative aspect of the emotion involved.
This beginning takes you into the dark side of the emotion to enable a cathartic release.
The music then transitions into the successful triumph and mastery of the emotion (as in transforming fear into trust). The net effect is a wonderful blessing of the flower essences in a vibratory experience coupled with a complex musical composition — together resolving the emotional challenge involved and strengthening the desirable emotional health of the listener.
This album has 6 tracks:
Clematis Flower
Centaury Flower
Scleranthus Flower
Water Violet Flower
Rock Rose Flower
Agrimony Flower

Value: $18
6 MP3s
Total Runtime: 41 Minutes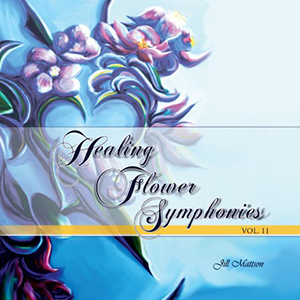 The Healing Flower Symphonies are a remarkable collection of original compositions containing the vibratory healing benefits of Flower Essences. The two Album Volumes each contain frequencies for six unique healing flowers.
Each flower radiates unique positive energy, such as trust, patience or sincerity. For example, a rose emulates beauty and the daisy feels cheerful. Feelings are contagious, and we can harness flower energy to personally develop positive feelings. To cure the doldrums, pick daisies. To enhance feelings of beauty, listen to the roses.
From primitive tribes in ancient times to modern visionaries such as Dr. Edmund Bach, people have received powerful benefits from ingesting the flower essences. Each flower addresses an important primary positive emotion common to everyone, such as impatience, doubt, demanding love. Each track of the Healing Flower Symphonies provides the healing potential of the associated flower.
In addition to the actual frequencies of twelve flower essences, each track offers powerful, emotionally healing music. The net effect is the wonderful blessing of the flower essences in a vibratory experience, coupled with a complex musical composition; this both resolves the emotional challenge involved, and strengthens the desirable emotional health of the listener.
This album has 6 tracks:
Impatiens Flower
Vervain Flower
Cerato Flower
Gentian Flower
Chicory Flower
Mimulus Flower

Value: $18
7 MP3s
Total Runtime: 47 Minutes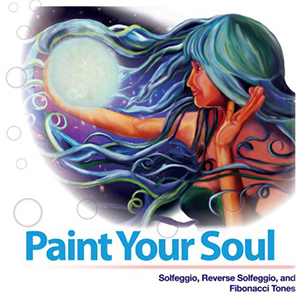 Ancient clairvoyants could see someone's aura light up whenever they listened to a series of special frequencies, called the Solfeggio tones. They could see the healing power of these special frequencies on a multitude of levels. As people lost clairvoyant vision, they encoded these in the Bible and in ancient Egypt, to insure their safekeeping through the ages. These tones sparkle throughout the Paint Your Soul Digital Album.
Paint Your Soul will fill your home, your head, and your heart with ethereal and soothing original scores entirely written and performed by Jill Mattson.
The collection features angelic vocals and uses sound healing techniques drawn from Ancient Mystery Schools to take you deep into layers within yourself for renewal and uplifting, energizing your mind and heart. This Digital Album uses the sacred geometry of the Fibonacci series to create a profoundly healing effect.
The Fibonacci series is a pattern found in the geometries of solar systems, plants and seashells, the human body, and in some of the world's most loved art and architecture. On this Digital Album, Jill has used tuning forks to produce pure Fibonacci tones and convert this spiral-shaped sacred geometric pattern into musical form.
According to ancient traditions, these sounds carve a pathway into the listener's consciousness, elevating the spirit and creating brain wave patterns that can expand consciousness.
This album has 7 tracks:
My Soul Goes Out to You
Sail the Tail
Broken Chords
A Prayer for David
Faded Roses
The Touch
Happy & Free

Value: $18
4 MP3s
Total Runtime: 1 Hour, 18 Minutes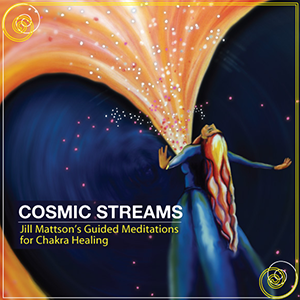 Cosmic Streams is an Unrivaled Chakra Meditation Experience Tune Chakras with Special Frequencies, Rhythms, Colors, Elements, Subtle Energies, Affirmations, Music & Tibetan Bowls! Clear Chakra Layers, Dimensions, Higher Energies, Tune associated organs/glands.
Secrets were passed down through the Ancient Mystery Schools concerning subtle energy channels within your body, such as the chakras. Initiates in various Schools of Enlightenment, studying under an ascended master, scribed special ways of clearing and balancing the chakras.
This CD incorporates many long-lost methods to deeply clear chakras. Incorporated into this guided meditation are 17 sound-based methods for chakra clearing from all over the Earth.
Revitalize front & back chakras! As well as open new chakras above your head to download higher consciousness and improve body, mind and emotional energies
Clear all Chakra layers and dimensions… front & back chakras
Harmonize and balance all major Chakra levels — including higher energy connections — open new chakras
Align Chakra harmonic patterns using vowel sounds, musical instruments and Tibetan bowls
Chakras are linked with specific glands — the control centers of your body. Activate, Clear & Tune the Chakra/gland subtle energy connections
Elevate spirituality through Channeled Subtle Energies of Ascended Masters and Angels
Sounds add energies associated with chakra clearing. For example, when you are visualizing the color red associated with the root chakra, the sound of the color red is playing in the background. This sound amplifies the energy created by visualizing the color red.
The rhythm, pitch, Tibetan bowl, elemental sound, and syllable associated with each chakra are sounded during the meditation amplifying the power and energy for chakra clearing! Some of the frequencies are tuning your associated organs and glands!
This album has 4 tracks:
Relax & Prepare, Part 1
Complete Chakra Tuning
Relax & Prepare, Part 2
Chakra & Organ Tuning
Discount: 82% Off
Total Value: $551
You Wealth Special Offer: $97
Sold Out
30-Day money back guarantee**
---
Secret Sounds — Ultimate Healing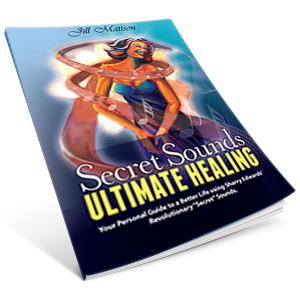 Secret Sounds — Ultimate Healing is a cutting-edge book about inventor Sharry Edwards. Edwards unravelled sound healing mysteries, which ultimately empower the body to heal itself. This is the story of how the promise of tomorrow's science came into being with the discovery of the mysteries that are encoded in the voice, as well as techniques for tuning the body with sound.
This new science, called bioacoustics, uses sound for a myriad of purposes, previously never imagined.
The book covers the scientific basis for Edwards' sound healing principles.
Highlights of the book include discovering the secret language of your body, improving relationships with vibrations, understanding sound-based mysteries in your subconscious mind, adjusting your experience of astrological frequencies, and ascending to a higher level of being, using the most exciting unexplored power of the twenty-first century: Sound.
About Jill Mattson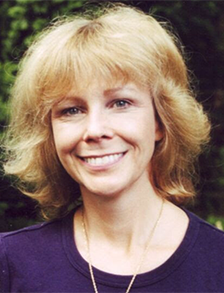 Jill Mattson is a prolific artist, musician, and author. She is a widely recognized expert and composer in the field of Sound & Color Healing, and has produced several musical CDs with intriguing, magical tracks using ancient & modern techniques & unique healing frequencies to achieve profound benefits.
Jill has written 4 highly regarded books and composed 11 original musical albums, many receiving award-winning honors. All her works concern Sound Healing Energy and Spiritual discoveries with applications that people can really use these to improve their lives. She also has produced dozens of instructional videos on a wide array of topics — all centered on what she calls Total Wellness and Enlightenment based on Sound Energy/Special Vibrational Frequencies.
Her compositions include these award-winners:
Crystal Realms CD — Best Sound Healing CD of 2017, Best Overall Music (popular Vote and Industry Leader's Choice — Gold Awards)
The Lost Waves of Time — Best Book of 2016 and Best Alternative Science book of 2016
Deep Wave Body Healing CD — Best Sound Healing CD of 2016
Contacting Angels & Masters CD — Best CD of 2015
Deep Wave Beauty CD — Best New Age CD/Silver Award
Jill and her work have been featured in hundreds of teleseminars, radio talk shows, and in magazines.
Jill also offers an online Sound (& Color) Healing School, where she presents new ways of approaching health and everyday issues, using the benefits of sound and color.
*DISCLAIMER: The information on this site is not intended or implied to be a substitute for professional medical advice, diagnosis or treatment. Financial or life results vary with each individual and we cannot guarantee that you will experience results similar to the testimonials presented on any of our pages or any results at all. These products are not intended to diagnose, treat, cure or prevent any disease. Testimonials are true and correct, and we will verify them upon request and also provide statements of expected typical results (email: [email protected]); however, these statements or examples should not be viewed as promises or guarantees of results. Any statements have not been evaluated by the Food and Drug Administration. Results are affected by a number of factors over which we have no control. Please see extended disclaimer at bottom of this page.
IMPORTANT MEDICAL DISCLAIMER: The information on this site is NOT INTENDED or IMPLIED to be a substitute for professional medical advice, diagnosis or treatment. All content, including text, graphics, images and information, contained on or available through this web site is for general information purposes only. Please see a medical professional if you need help with depression, illness, or have any concerns whatsoever. WE DO NOT OFFER MEDICAL ADVICE, COURSE OF TREATMENT, DIAGNOSIS OR ANY OTHER OPINION on your conditions or treatment options. SERVICES OR PRODUCTS THAT YOU OBTAIN THROUGH THIS WEB SITE are for information purposes only and not offered as medical or psychological advice, guidance or treatment. Results shared are not typical. You may or may not experience anything from our sessions, the services provided by teachers, speakers and guests. Please consult a medical professional if you are experiencing illness, depression, anxiety, mood swings or any concerns whatsoever. These statements have not been evaluated by the Food and Drug Administration. These products are not intended to diagnose, treat, cure or prevent any disease.
AFFILIATE COMPENSATION NOTICE: You should assume that the You Wealth Revolution has an affiliate relationship and/or another material connection to the providers of goods and services mentioned on this page and may be compensated when you purchase from a provider. You should always perform due diligence before buying goods or services from anyone via the Internet or offline.
REFUND POLICY: You Wealth Revolution appreciates and values all our listeners and speakers. As a show of our appreciation, we are happy to offer a 30-day Money Back Guarantee to our valued customers to better help them discover if a product will work for them. However, as a way to help show our speakers how much we treasure their knowledge and hard work, a refund can only be offered on one package per customer in a 90-day period. Multiple refunds requested by the same customer within 90 days will not be accepted. Should we notice a pattern of excessive purchases and returns, we reserve the right to remove such person(s) from our mailing list, block future purchases, and/or deny future refunds. Should the speaker's offer involve a personal session, the guarantee will be voided in the event that the session has been used. Should the speaker's offer include digital content, the guarantee will be voided and no refund granted if more than 30% of tracks have been downloaded. We rely on your integrity as a You Wealth listener to honor each speaker's digital assets. Additionally, all requests for refunds should be submitted within the 30-day guarantee period. We appreciate and thank all our listeners for understanding and respecting this guarantee.
*SURVEY OF YOU WEALTH LISTENER RESPONDENTS: In a survey conducted in August of 2013 listener respondents were asked specifically "Has the You Wealth Revolution Event Helped You Have a Better Life?". Out of 1164 total respondents, 1097 people answered "Yes". Only 67 respondents answered "No". A total of 94.24% percent of respondents said this event helped them have a better life. A copy of this survey and our results can be emailed upon request by emailing [email protected].