Discussion Topic:
Quantum Nanobot Knockout:
Your Way Back to Freedom!
Replay Active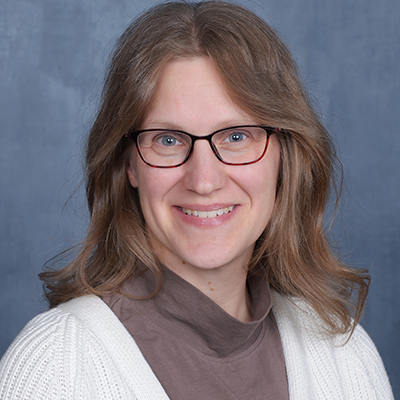 IMPORTANT: Reserve Your Private Energy Session w/ Kari Alajoki

(Limited Spaces Available)
Are You Tired of Being 'Attacked' by Negative Thoughts, Emotions, and Memories?
Meet Mind-Body Science Expert Kari Alajoki…
…and Discover the Quantum Nanobot Knockout
and STOP Nano-Tech, Cellular Disruptors, Artificial Intelligence Can 'Hijack' Consciousness…
After my healing session with Kari to work on my gallbladder, I was able to indulge in fatty foods, mild spices and chocolate for the first time in over a year! — Alexandra
In this powerful Quantum Nanobot Knockout offer from Kari, you will:
Feel more balanced and restored to a more youthful state emotionally and physically.
Free up and release the sticky places in the body that are blocking the free flow of energy and health!
Reclaim your zest for life because you are able to think more clearly, work with more energy, and move with less pain and stiffness.
Most of all, you are able to feel FREE and sovereign- reclaim a sense of body ownership!
Nanobots — Cellular Disruptors in the Quantum Field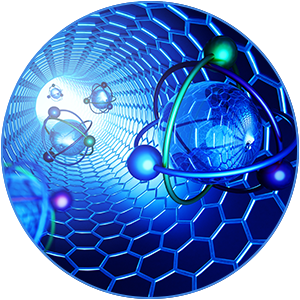 What are Nanobots and Why do YOU Need to Know About them IMMEDIATELY? Nanobots are tiny particles that come into your body and disrupt the messaging center on a cellular level and in the quantum spaces within your body. On a cellular level, your cells become confused in receiving information which is causing your body to not function properly.
These nanobots are basically cellular disruptors and come in different forms…they are nano size so are easily missed by current technology!
RIGHT NOW, Kari is finding them in the quantum space in EVERYONE'S body!
What is even stranger is that attachments and entities are piggy backing on this nanotechnology and coming into bodies as well! This is SO HEAVY and pressing on EVERYONE right now!
Nanobots MUST Be Cleared Out Energetically!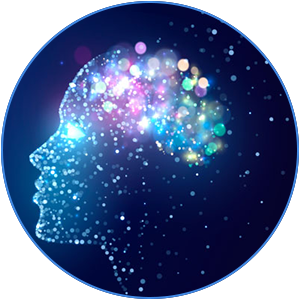 Even though nanobots are affecting every area of health…
Your digestion…
Your hormones…
Your brain…
Clearing these out is no small thing! There is NO KNOWN way to do this physically!
Kari is the ONLY known expert that specializes in clearing out nanobots! She first de-programs and then removes them from your body. This allows your body to move into the next phase of healing and restoring its hormonal, digestive, and brain health!
What You Are IMMEDIATELY Able to Feel Is…
Improvement in energy
Mental clarity
Improved digestion
Increased joy and zest for life
Less bloating
Diminished dry skin and hair
Fewer pain and aches
Better sleep
Quantum Nanobot Knockout — YOUR WAY BACK TO FREEDOM!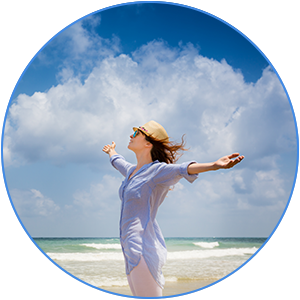 Imagine…
Clarity in your mind, improved memory and communication…
When your brain is cleared of nanobots, you are FREE to concentrate on what you wish, not intruding thoughts that weigh you down!
Digestive health to be able to tolerate more foods, eat comfortably without gaining excess weight…
When your digestive health is cleared of nanobots, you are FREE from anxiety and feelings of stress when your digestive system is rebalanced!
Relief of unusual-for-you hormonal symptoms, hot flashes, thinning skin, wrinkles, dry and thinning hair, and less tummy bloat…
Are you ready to experience how this is done?
Open The Pathways For Rebalancing and Have Your Body Back Again!
Clear Your System of Nanobots and Restore Your ENTHUSIASM For Life!
Join Kari and Kickstart Your Return to FREEDOM Today!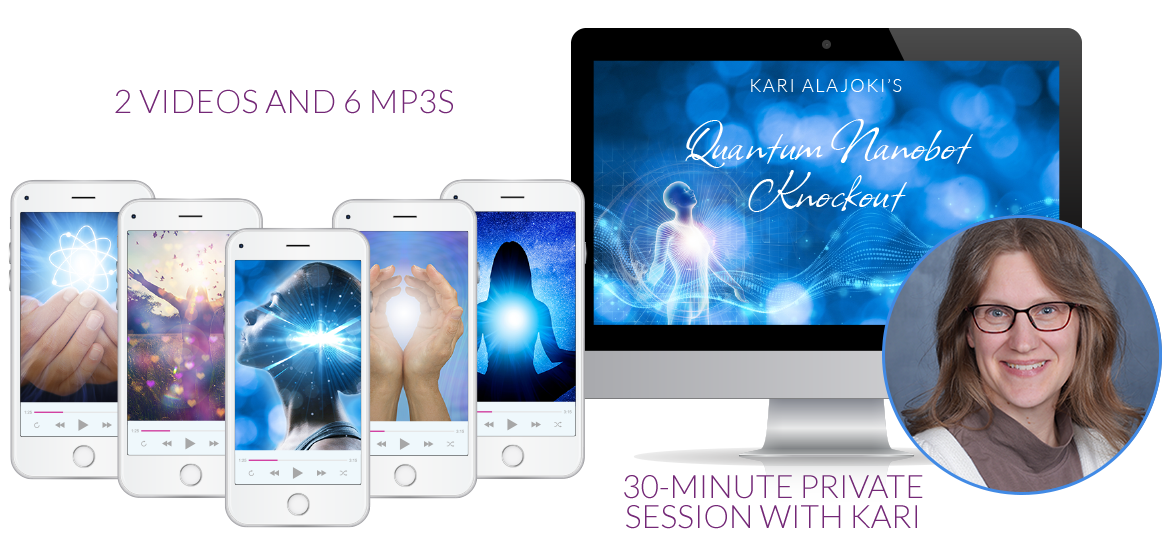 Participate in this POWERFUL healing and clearing session to COMPLETELY bust up the nanobots in your system.
Group healing amplifies the effect of your clearings as the collective joins together with one goal in mind… Eradicate Nanobots!

Healing & Clearing Session with Kari

Free your body from the nanobots that are clouding your cell walls and impacting the sending and receiving of correct information…
Open pathways all around your body that are clogged with nanobots that are stopping up your natural flow and causing imbalances…
Benefit from nanobot clearing specifically in your stomach, circulatory pathways, lungs, and brain!

Nanobot and Entity Cleanup Healing Session

What to make sure your body is FREE from Nanobots and entities? Kari wants to ensure that you clean up the residual in your system! Be clear and FREE from nanobots and entities to completely restore to optimal health.

You will not only experience the full clearing of nanobots and entities, you will find out what part of your body is the most compromised and needing support and what you can do to help!

Elevate Your Frequency with a Special Love Protein Transmission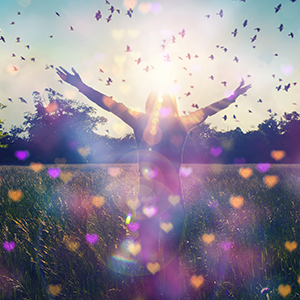 In this powerful audio, Kari celebrates aspects of the Mother and the Divine Feminine within us all.
Kari will be working with a frequency that is of a high vibrational level. This frequency is the frequency of love.
As we know, our bodies are made up of building blocks of proteins. These proteins are as essential for life as frequencies and emotions of love, joy, peace, and gratitude are essential for thriving and well-being.
Kari likes to combine the two and call it a love protein transmission. Receive this powerful transmission to elevate your frequency and bring you to an increased level of health and wellbeing.

Value: $150
3 MP3s
Total Runtime: 20 Minutes
Stop Allowing Nanobots and Entities to Control Your Life!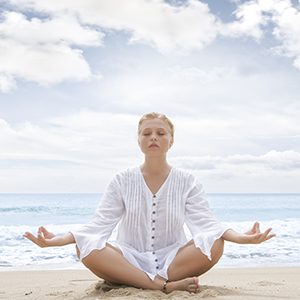 For the You Wealth Community, Kari has created three powerful audios targeting areas that we know are of importance to our community's well-being, specifically:
Improved Skin and Hair
Pain Relief
Improved Sleep for Rejuvenation
This exclusive Nanobot Knockout audio series will clear your emotional, mental, and physical field from the devastating effects of nanobots and entities, specifically targeting these areas.
When you reduce these disruptors in your body, you experience an increased ability to process energy and heal at a much faster pace!
Reclaim your zest for life with this powerful audio trio and ensure that nanobots that have come in on your timeline, through your DNA or generationally, are cleared away.

Value: $100
MP3
Runtime: 31 Minutes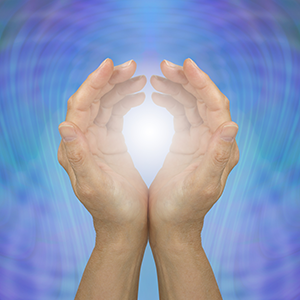 Use this Quantum Xcelerator MP3 to enhance your meditation, healing practices, or any form of healthcare or healing modality you are using.
You can expect to feel a higher level of energy along with increase positive emotions such as joy, peace, confidence, laughter and love.
For maximum benefit, be intentional about which practice or support you are seeking to enhance. You can choose to play this MP3 on silent or with music.

Value: $100
MP3
Runtime: 30 Minutes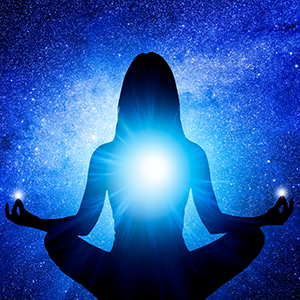 This 5G in Harmony MP3 uses a technique that brings 5G frequencies into balance when it enters your energetic fields. Instead of blocking 5G, this technique alters the damaging frequency by increasing the harmony and balance of your own body's frequency.
Your body becomes trained to this elevated harmony to not only manage 5G but to also experience increased positive emotions for longer periods of time.
For additional benefits, run this MP3 during your energetic practices. Use this MP3 on silent or with the music.

Value: $100
MP3
Runtime: 20 Minutes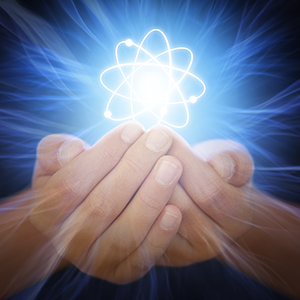 The Nanobot Knockout audio can release and relieve those Nanobots when you need it most!
Use this MP3 when you are feeling heavy and weighed down to lighten your body and mind. Listen in the car or on the go to eliminate the overload of nanobots on your system.
Use it after being in crowds or at work to clear out anything that may have come in.
Discover the ways that the Nanobot MP3 helps YOU with the unique symptoms you are experiencing in your digestion, chest, brain fog and more!
Package A
Discount: 90% Off
Total Value: $1,400
You Wealth Special Offer: $147
Add to Cart
30-Day money back guarantee**
**No refunds available after Midnight Pacific on April 15, 2022

Includes everything in Package A, PLUS:

Your Actions Today Can Change Your Tomorrow!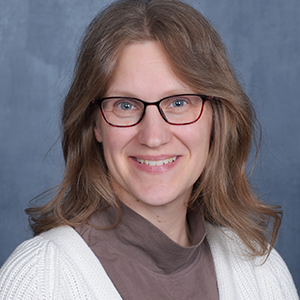 Are you experiencing physical, emotional, and mental challenges? Our world is ever-changing around us. For many, levels of anxiety and worry rise as we increasingly feel overwhelmed and unable to manage the stressors around us.
By creating a foundational shift in your emotional, mental, and physical body, you are able to experience healing in the areas you are seeking support. Stress, anxiety, sleeplessness, overwhelm, lack of resilience, physical imbalances, and hidden sources of physical challenges can be addressed and balanced. Organ and system quantum restorations enhance healing programs to support your body to increased health.
During your 30-minute session, Kari Alajoki utilizes the science of the mind body connection and restorative quantum healing modalities, connecting with clients energetically to release negative emotions, attachments, perceptions, and blocks to stimulate your body's innate ability to generate healing.
A personal session with Kari builds upon the clearing work in Package A to address and achieve results on specifically what you need towards resolving your biggest challenges!
Package B
Discount: 88% Off
Total Value: $1,700
You Wealth Special Offer: $197
Add to Cart
30-Day money back guarantee**
**No refunds available after Midnight Pacific on April 15, 2022
**No refunds available after private session has occurred
Need a Payment Plan?
Second payment due in 21 days
---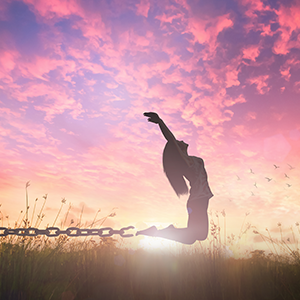 This Yester-Year Breakout audio can be used to help shift you out of old, stagnant, and stuck energies that are holding you back from moving forward.
If you are looking to rekindle your natural drive and curiosity, or, if you are wanting to feel inspired to reconnect with old friends, create new relationships, find a new path forward, or just de-clutter the disorganization inside and out, this MP3 is for you!
About Kari Alajoki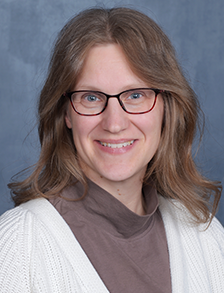 Years ago, Kari set out to make changes in her life due to feelings of overwhelm of raising a family amidst health challenges, and the inability to achieve the peaceful life she desired. Soon after, she discovered and began the studies of mind-body science, transformational life coaching, and Quantum energetic healing.
Out of this, she connected with her ability to intuitively support others in their healing process in the areas of emotional, mental, and physical challenges. Personal transformational experiences and extensive studies have led her to grow in confidence as a mother, healer, coach, and support for her children as they have moved through different stages in life.
Clients from countries around the world have benefited from support and healing in these areas.
---
*DISCLAIMER: The information on this site is not intended or implied to be a substitute for professional medical advice, diagnosis or treatment. Financial or life results vary with each individual and we cannot guarantee that you will experience results similar to the testimonials presented on any of our pages or any results at all. These products are not intended to diagnose, treat, cure or prevent any disease. Testimonials are true and correct, and we will verify them upon request and also provide statements of expected typical results (email: [email protected]); however, these statements or examples should not be viewed as promises or guarantees of results. Any statements have not been evaluated by the Food and Drug Administration. Results are affected by a number of factors over which we have no control. Please see extended disclaimer at bottom of this page.
IMPORTANT MEDICAL DISCLAIMER: The information on this site is NOT INTENDED or IMPLIED to be a substitute for professional medical advice, diagnosis or treatment. All content, including text, graphics, images and information, contained on or available through this web site is for general information purposes only. Please see a medical professional if you need help with depression, illness, or have any concerns whatsoever. WE DO NOT OFFER MEDICAL ADVICE, COURSE OF TREATMENT, DIAGNOSIS OR ANY OTHER OPINION on your conditions or treatment options. SERVICES OR PRODUCTS THAT YOU OBTAIN THROUGH THIS WEB SITE are for information purposes only and not offered as medical or psychological advice, guidance or treatment. Results shared are not typical. You may or may not experience anything from our sessions, the services provided by teachers, speakers and guests. Please consult a medical professional if you are experiencing illness, depression, anxiety, mood swings or any concerns whatsoever. These statements have not been evaluated by the Food and Drug Administration. These products are not intended to diagnose, treat, cure or prevent any disease.
AFFILIATE COMPENSATION NOTICE: You should assume that the You Wealth Revolution has an affiliate relationship and/or another material connection to the providers of goods and services mentioned on this page and may be compensated when you purchase from a provider. You should always perform due diligence before buying goods or services from anyone via the Internet or offline.
**REFUND POLICY: You Wealth Revolution appreciates and values all our listeners and speakers. As a show of our appreciation, we are happy to offer a 30-day Money Back Guarantee to our valued customers to better help them discover if a product will work for them. In the case of Kari Alajok's package, a refund is available within 30 days of purchase, or before the private session has occurred, or until Midnight Pacific April 15, 2022, which is before the live sessions begin (whichever comes first). However, as a way to help show our speakers how much we treasure their knowledge and hard work, a refund can only be offered on one package per customer in a 90-day period. Multiple refunds requested by the same customer within 90 days will not be accepted. Should we notice a pattern of excessive purchases and returns, we reserve the right to remove such person(s) from our mailing list, block future purchases, and/or deny future refunds. Should the speaker's offer involve a personal session, the guarantee will be voided in the event that the session has been used. Should the speaker's offer include digital content, the guarantee will be voided and no refund granted if more than 30% of tracks have been downloaded. We rely on your integrity as a You Wealth listener to honor each speaker's digital assets. Additionally, all requests for refunds should be submitted within the 30-day guarantee period. In the case of Kari Alajok's package, all requests for refunds must be submitted within the 30-day guarantee period, or before the private session has occurred, or until Midnight Pacific April 15, 2022 (whichever comes first). We appreciate and thank all our listeners for understanding and respecting this guarantee.
**SURVEY OF YOU WEALTH LISTENER RESPONDENTS: In a survey conducted in August of 2013 listener respondents were asked specifically "Has the You Wealth Revolution Event Helped You Have a Better Life?". Out of 1164 total respondents, 1097 people answered "Yes". Only 67 respondents answered "No". A total of 94.24% percent of respondents said this event helped them have a better life. A copy of this survey and our results can be emailed upon request by emailing [email protected].