Welcome to Debbie Johnson's Special Offer Page

IMPORTANT: Reserve Your Private Energy Session w/ Debbie Johnson

(Limited Spaces Available)
ALL NEW!
Does Your Soul Yearn to Connect with a Loved One on the Other Side?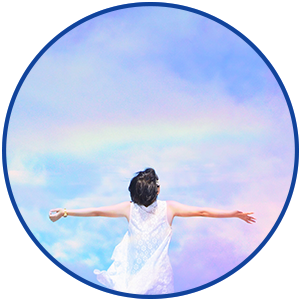 Would You Like Wisdom, Guidance, or Powerful Healing Energy from the Spirit Realm?
Your Angel Team May Have Messages for You!
A Message From Debbie
My JOB… is to help you hear what your angels are trying to tell you so that you can understand how they are talking to you.
My GOAL… is to help you hear them better on your own. The more we understand how the spirit world communicates, the more we can access this wisdom on our own in our daily lives.
My DREAM… is to inspire every soul so I can to listen to their heart without question and in doing so, raise the overall vibration and joy of the planet.

You Will Receive:
Spiritual guidance on important matters
Answers to specific questions
Messages from loved ones who have crossed over
Interaction with your divine guides
Meditations
Activations
Clearings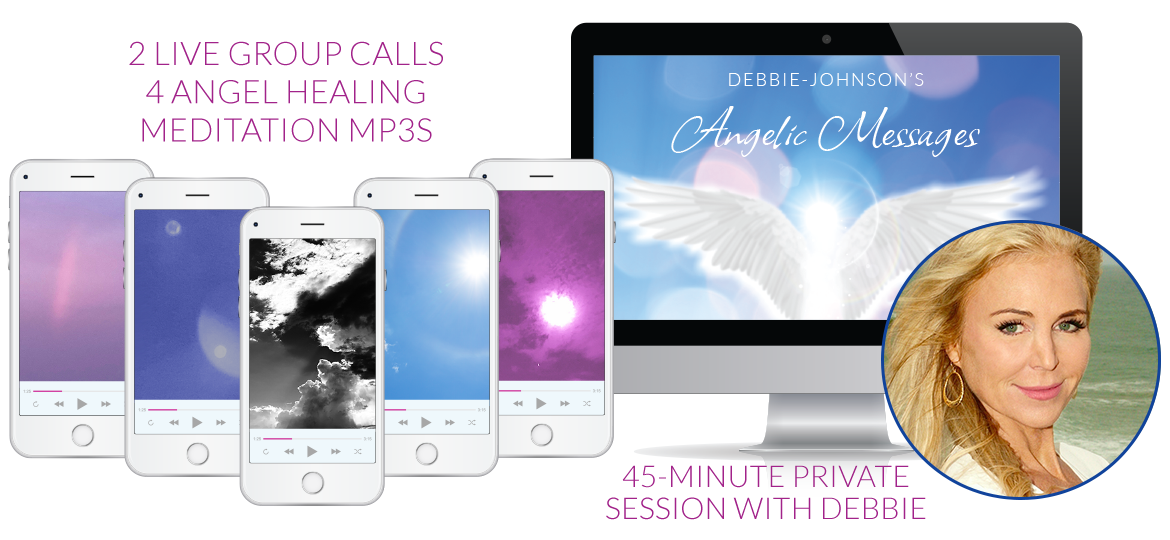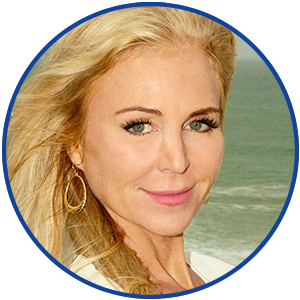 As a channel to the angels, clairaudient and clairvoyant psychic/medium Debbie Johnson receives messages your angels are already trying to tell you. During this 45-minute Angel Reading, Debbie Johnson uses Tarot and Reiki to communicate with spirits. She accesses each person's spirit "team" — often consisting of Archangels, Spirit Guides and deceased loved ones — who will answer questions, give guidance and send healing as well.
Debbie will channel the messages the Angels and your loved ones on the other side have for the New Year. The Angels will also do clearings during the session if needed.
Note: The sessions are recorded.
Value: $47
MP3
Runtime: 8 Minutes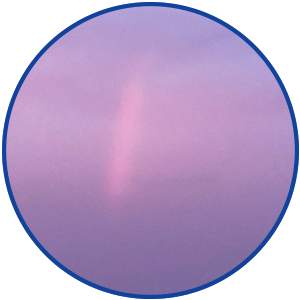 This sound healing was created to open the crown chakra to the Angelic Realm. Great tool for channeling information, spiritual writing or preparing to work with clients.
This features the "Soul Star" crystal bowl which is the chakra right above the crown chakra that connects us to heaven. Prayers to the Angels and Crystal Bowls combine for a heavenly experience.
Value: $47
MP3
Runtime: 10 Minutes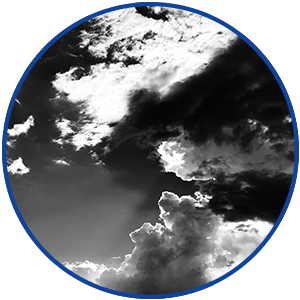 Receive heavenly guidance about how to approach conflict with someone. During this guided meditation, the Angels give the listener an empathic view of the other person, as well as a heart opening experience to find a solution to the conflict.
This can be used for different situations each time.
Value: $47
MP3
Runtime: 8 Minutes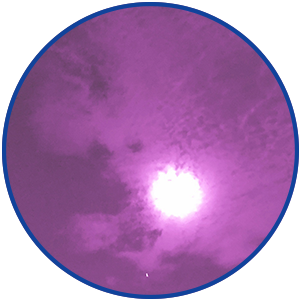 During this guided meditation, learn the way the Angels speak to you!
They don't talk to us all the same way — this meditation creates a simple way to learn if you feel, hear, see, know and even smell psychic messages. A great way to build the psychic muscle as well.
Value: $47
MP3
Runtime: 8 Minutes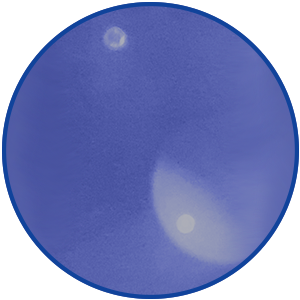 Angels and Loved Ones visit us all the time. But, how do we know who is around us?
Angels and Human Angels feel different. During this meditation, the listener experiences the different sensations of energy during the visits. And can then compare them and know who is around at a given time.
Package A
Discount: 62% Off
Total Value: $388
You Wealth Special Offer: $147
Add to Cart
30-Day money back guarantee**
Includes everything in Package A, PLUS:

Value: $200
Monday, December 3rd and 10th, 2018 at
4:00pm Pacific / 5:00pm Mountain / 6:00pm Central / 7:00pm Eastern / 12:00am (Dec 11) GMT
Embracing Your Intuitive Gifts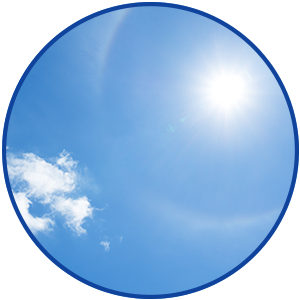 This Group Call Series with Debbie is ALL NEW and a YOU WEALTH EXCLUSIVE! Debbie will guide participants on how to recognize and use your psychic and healing gifts. Feel the angelic presence and energies work through this process with you. Debbie takes you on this divinely guided experience over 2 90-minute sessions. This rare opportunity is not to be missed!
Healing Call 1 — Angelic Psychic Attunement

Monday, December 3rd, 2018 4:00pm Pacific / 5:00pm Mountain / 6:00pm Central / 7:00pm Eastern / 12:00am (Dec 4) GMT

Debbie will offer healing transmissions followed by a series of group processes with specific guidance on how you can attune and enhance your own intuition. Debbie will channel and provide group guidance with time for Q&A. Practice exercises will be provided to participants and reviewed the during the second group session.

Healing Call 2 — Angelic Assistance to Others

Monday, December 10th, 2018 4:00pm Pacific / 5:00pm Mountain / 6:00pm Central / 7:00pm Eastern / 12:00am (Dec 11) GMT

Building upon the energies of the first group call, Debbie will review the teachings from the first call, and then guide participants on how to use their intuitive abilities as a conduit for helping others. On this call Debbie will also offer a series healing transmissions and group processes. At the end of this call participants will identify their primary psychic ability and learn how to use help others with their gift. Q&A included.
Note: All sessions will be recorded with access to the replay.
Package B
Discount: 66% Off
Total Value: $588
You Wealth Special Offer: $197
Add to Cart
30-Day money back guarantee**
Need a Payment Plan?
Second payment due in 21 days
---
Special Added Bonus Expires Sunday at Midnight
528 Hz Crystal Bowl Heavenly Message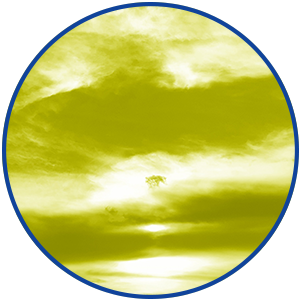 This soothing sound healing was created to stop the chatter of the mind, so that the listener can relax and receive a personal message from heaven. The Angels will have a new message for the listener each time it is experienced. A great way to relax and receive guidance.
About Debbie Johnson
Debbie Johnson is a psychic/medium who has been working with the angelic realm and clients all over the world for over 17 years. She brings messages from your angels to you by channeling Archangels, passed loved ones, spirit guides, and healing.
She believes we all have angels around us. Her angels talk to yours and tell her what they are ALREADY trying to tell YOU!
She began to see spirits as a small child, but when she spoke up about it, she was told to stop making up stories. Being raised in a Southern Baptist household, her gift was repressed. It started to come back in her 20s when she studied Reiki. During Reiki sessions, Debbie not only saw and heard human spirits, she also witnessed the magnificence of the Archangels and their abilities to help others. She would not have believed it, had she not seen it with her own eyes. At that time, she began to work along with the Angelic Realm.
Debbie not only delivers messages, she is able to see into the spirit and physical body if needed and channel powerful healing energy that clears blockages and entities that can sometimes be the cause of physical and mental illness.
Debbie works with the Angelic Realm to bring healing, and it is safe and gentle for ALL. She is available for readings that include clearing and healing via phone and Skype, as well as in person.
In addition to the readings, Debbie Johnson is a Usui Reiki Master/Teacher who has been practicing Reiki for over 15 years. She is a professional member of the International Center for Reiki Training and offers Reiki Treatments that include channeled messages.
*DISCLAIMER: The information on this site is not intended or implied to be a substitute for professional medical advice, diagnosis or treatment. Financial or life results vary with each individual and we cannot guarantee that you will experience results similar to the testimonials presented on any of our pages or any results at all. These products are not intended to diagnose, treat, cure or prevent any disease. Testimonials are true and correct, and we will verify them upon request and also provide statements of expected typical results (email: [email protected]); however, these statements or examples should not be viewed as promises or guarantees of results. Any statements have not been evaluated by the Food and Drug Administration. Results are affected by a number of factors over which we have no control. Please see extended disclaimer at bottom of this page.
IMPORTANT MEDICAL DISCLAIMER: The information on this site is NOT INTENDED or IMPLIED to be a substitute for professional medical advice, diagnosis or treatment. All content, including text, graphics, images and information, contained on or available through this web site is for general information purposes only. Please see a medical professional if you need help with depression, illness, or have any concerns whatsoever. WE DO NOT OFFER MEDICAL ADVICE, COURSE OF TREATMENT, DIAGNOSIS OR ANY OTHER OPINION on your conditions or treatment options. SERVICES OR PRODUCTS THAT YOU OBTAIN THROUGH THIS WEB SITE are for information purposes only and not offered as medical or psychological advice, guidance or treatment. Results shared are not typical. You may or may not experience anything from our sessions, the services provided by teachers, speakers and guests. Please consult a medical professional if you are experiencing illness, depression, anxiety, mood swings or any concerns whatsoever. These statements have not been evaluated by the Food and Drug Administration. These products are not intended to diagnose, treat, cure or prevent any disease.
AFFILIATE COMPENSATION NOTICE: You should assume that the You Wealth Revolution has an affiliate relationship and/or another material connection to the providers of goods and services mentioned on this page and may be compensated when you purchase from a provider. You should always perform due diligence before buying goods or services from anyone via the Internet or offline.
REFUND POLICY: You Wealth Revolution appreciates and values all our listeners and speakers. As a show of our appreciation, we are happy to offer a 30-day Money Back Guarantee to our valued customers to better help them discover if a product will work for them. However, as a way to help show our speakers how much we treasure their knowledge and hard work, a refund can only be offered on one package per customer in a 90-day period. Multiple refunds requested by the same customer within 90 days will not be accepted. Should we notice a pattern of excessive purchases and returns, we reserve the right to remove such person(s) from our mailing list, block future purchases, and/or deny future refunds. Should the speaker's offer involve a personal session, the guarantee will be voided in the event that the session has been used. Should the speaker's offer include digital content, the guarantee will be voided and no refund granted if more than 30%% of tracks have been downloaded. We rely on your integrity as a You Wealth listener to honor each speaker's digital assets. Additionally, all requests for refunds should be submitted within the 30-day guarantee period. We appreciate and thank all our listeners for understanding and respecting this guarantee.
*SURVEY OF YOU WEALTH LISTENER RESPONDENTS: In a survey conducted in August of 2013 listener respondents were asked specifically "Has the You Wealth Revolution Event Helped You Have a Better Life?". Out of 1164 total respondents, 1097 people answered "Yes". Only 67 respondents answered "No". A total of 94.24% percent of respondents said this event helped them have a better life. A copy of this survey and our results can be emailed upon request by emailing [email protected].